VOLT Racing With Archangel to Continue with Aston Martin in 2021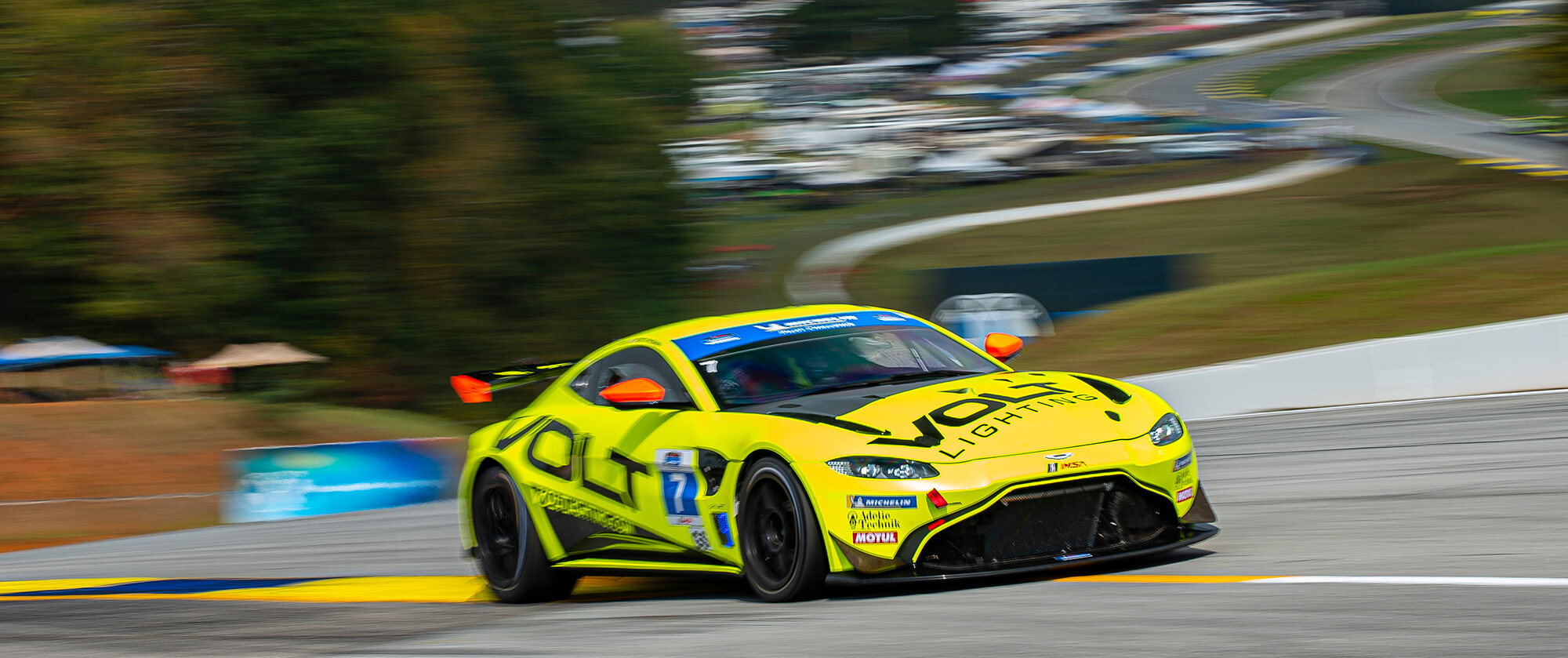 ST. LOUIS, MO (December 15, 2020) - After a shift to Aston Martin for the final three rounds of the 2020 IMSA Michelin Pilot Challenge season, VOLT Racing with Archangel has confirmed their continuation with the British manufacturer into 2021.
The unchanged operation will see Alan Brynjolfsson and Trent Hindman remain at the wheel of the No. 7 Volt Lighting-sponsored Aston Martin Vantage GT4 for the full 10-race season. The VOLT Racing with Archangel program is set to run concurrently with the recently announced Magnus with Archangel GTD campaign.
"I'm excited to continue our partnership with Alan, Trent and Volt Racing and to build off of what we started last season with Aston Martin," said Archangel Motorsports Principal, Mike Johnson. "In the last three races of 2020, we took home two podiums and put ourselves in a position to win every time. The competition in GS gets stronger every year and there's a different winner nearly every race, but I'm confident that we'll be right there to fight for the championship with Aston Martin."
Since joining the IMSA Michelin Pilot Challenge ranks in 2017, Brynjolfsson has amassed a great amount of series success, including two wins, a slew of podiums and the prestigious Porsche Cup award in 2019. After finishing the 2020 season with two second places and two personal best qualifying positions, the Tampa native hopes to capitalize on a strong introduction to Aston Martin.
"I have so much confidence in Mike Johnson and our entire crew of guys," said Brynjolfsson. "It's exciting to know we will have the continuity to keep building on our year ending success. We finished the GS season with back to back podiums and we would like to keep that going right into the next season."
Returning for his eighth year of GS competition and fourth partnered with Brynjolfsson and Johnson, Hindman is prepared to jump right back into the thick of things with the No. 7 VOLT Lighting sponsored machine.
"Having worked with Alan and Mike since in GS since 2018, we've been on the cusp of consistent success for a while but it's never fully taken shape," said Hindman. "Heading into 2021 together again, with a competitive car and a team that's experienced in working with each other makes the potential of a GS championship title more of a reality."
"The competition will obviously be strong as it's always been, but the momentum gained by the entire Archangel team at the end of this year is just a small impression of what this team is capable of. Massive thank you to Alan and VOLT Racing with Archangel for the opportunity to come back and fight for another championship."
The 2021 IMSA Michelin Pilot Challenge season kicks off in Daytona Beach, Florida with the Roar Before the Rolex 24 Jan. 22-24. The test will then be followed with the season opening round Friday, Jan. 27th.
---

Calendar:
Jan. 22-24 — Roar Before Rolex 24 (Test)
Jan. 28-31 — Daytona International Speedway (4 Hours)
March 17-20 — Sebring International Raceway
April 23-25 — WeatherTech Raceway Laguna Seca
May 14-16 — Mid-Ohio Sports Car Course
June 24-27 — Watkins Glen International (4 Hours)
July 2-4 — Canadian Tire Motorsport Park
July 16-18 — Lime Rock Park
Aug. 6-8 — Road America
Aug. 20-22 — Virginia International Raceway
Oct. 6-9 — Michelin Raceway Road Atlanta