Archangel Motorsports Fights to the Finish in Mid Ohio SportsCar Course Race 1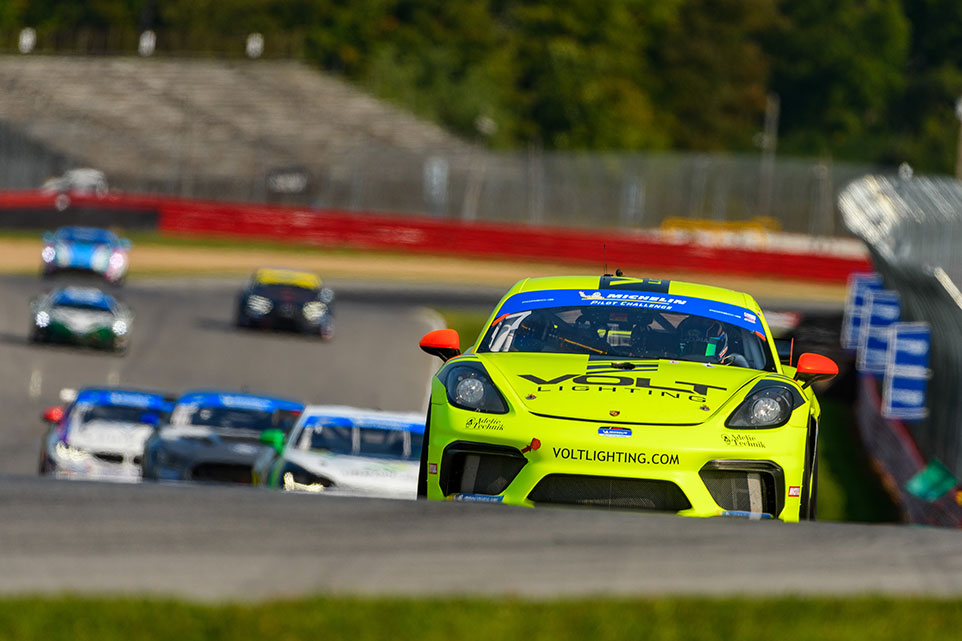 LEXINGTON, OH (September 26, 2020) - Great pace, quick pit work and top strategy couldn't challenge unfortunate luck for Archangel Motorsports in Saturday's IMSA Michelin Pilot Challenge race at Mid Ohio SportsCar Course. After losing a lap due to contact from a competitor, Alan Brynjolfsson and Trent Hindman carried the No. 7 VOLT Lighting Porsche 718 Cayman GT4 home in fourteenth position.
Brynjolfsson continued his streak of great qualifying laps, with a ninth place starting position for race one. He carried that same level of momentum to the race start, quickly taking to some battles and defending his position from a tight knit GS pack. He was in eleventh place, when bad luck struck and a sequence of contact between two competitors sent him off in Turn 2.

Despite losing a lap, Brynjolfsson was able to continue without damage to the Porsche. As chaos continued ensue around him, the Tampa native powered through what ended up being nearly twice his typical race stint - at one hour and twenty minutes.
Forty minutes remained in the race when Brynjolfsson pitted for a second time, passing the baton off to Hindman. A combination of smooth pitstops and quick, consistent lap times allowed Hindman to fight back onto the lead lap before taking the checkered flag in fourteenth place
"It was a disappointing day", said Archangel Motorsports Principal, Mike Johnson. "We had a lot of hope after the last few races and I think we could've had another top three result. I'm really happy with the team. We had had great pitstops and were able to just barely catch the lead lap. If we had another caution I think we would've caught the top ten. Sometimes, that's just how it goes, but the good news is we get to do it again tomorrow."
The Mid Ohio Sportscar Course action continues tomorrow as Race 2 begins at 10:35AM with live streaming available on Track Pass on NBC Sports Gold.
Driver Quotes:
Alan Brynjolfsson | Driver, No. 7 VOLT Lighting Porsche 718 Cayman GT4
"I tried my hardest and there's no doubt that this one was very physical. Mid Ohio is a very demanding track and today's race was almost a double stint for me, driving for an hour and twenty minutes. I got hit from behind, but it was no ones fault. I'm happy with how I drove, how Trent drove, how the team performed, and am ready to get back to it tomorrow."
Trent Hindman | Driver, No. 7 VOLT Lighting Porsche 718 Cayman GT4
"It was a bummer, especially because we knew after practice and qualifying that we had a great race car. I think we proved that at the end because we were quicker than the leaders on two stint right side tires, so props to Michelin. At the end of the day, Alan and all of the Archangel Motorsports guys did a great job salvaging something out of a tough day. Alan getting hit was completely out of his control and he did a fanatic job leading up to that. Luckily it's a doubleheader, so we'll get this thing back out there and ready to go tomorrow."