VOLT Racing with Archangel Slates a Top Five at WeatherTech Raceway Laguna Seca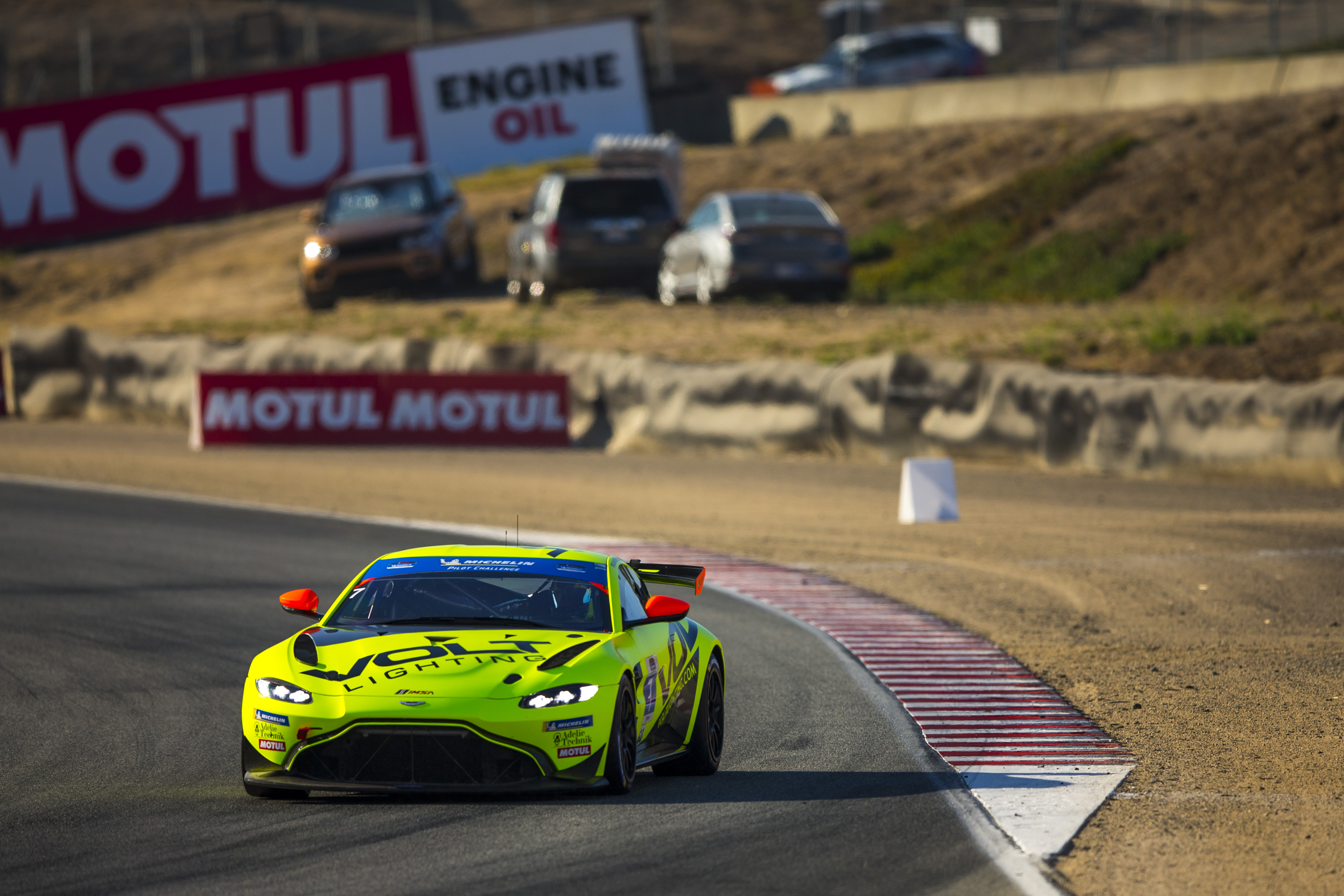 SALINAS, CA (September 11, 2021) - VOLT Racing with Archangel saw a clean, but less than eventful Round 8 of the IMSA Michelin Pilot Challenge as Alan Brynjolfsson and Trent Hindman brought the No. 7 Aston Martin Vantage GT4 to a top five finish at WeatherTech Raceway Laguna Seca.
Just one year after their first podium with Aston Martin, the event carried momentum before it even started. That bled right into practice, after both Hindman and Brynjolfsson were able to show paces that matched the pro leaders. Brynjolfsson then went on to qualify eighth for Saturday's two-hour race.
After loosing several positions getting tangled at the start, Brynjolfsson was able to bounce back into the top ten. The No.7 was in ninth position when a full course yellow was thrown. While under yellow, Brynjolfsson pitted for a full service stop, handing the controls off to Hindman.
Two laps later, the field retook to green, with the VOLT Lighting machine running in seventh position. From there, the New Jersey native was able to gain a position a lap, until he advanced to fifth position. With 50-minutes remaining, he pitted once more for fuel and right side tires, regaining his fifth place position where he settled and ultimately finished the race.
"It was an uneventful race for us," said Archangel Motorsports Principal, Mike Johnson. "You always fight tire deg here and when your starting driver has to start on qualifying tries it makes it tricky. Alan did great, we had a really great pitstop and gave it to Trent. When we came in from for our second pitstop for right side tires and I think some of the other teams omitted tires which allowed them to gap us a little bit. We were more set for a long run and the car was great at the end, but it's so hard to pass at Laguna. The good news is we had a flawless race, which we needed. We have 4 days of testing left and two more races."
The VOLT Racing with Archangel team will return to action at VIRginia International Raceway October 8-12. The weekend will not only see Round 9 of the IMSA Michelin Pilot Challenge, but also the return of the IMSA Prototype Challenge.
Driver Comments:
Alan Brynjolfsson, Driver, No. 7 — "Overall I'm very happy. The race was flawless and everyone did their part. Fifth place was the best we could've done with the pace of the car here."
Trent Hindman, Driver, No. 7 — "The result was not representative of what the team is capable of, but to me this was our best executed race of the year. The call to take right side tires was perfect, the work on pitlane was phenomenal, I think that was where we undercut a couple of cars for position. Unfortunately we had a pit of a technical issue that cut into our performance at the end, but Alan and the entire team did an awesome job this entire race. We need to do this again at VIR and Road Atlanta, because it will indefinitely get us a win."