VOLT Racing with Archangel Yields Fourth in a Caution Induced Event at Lime Rock Park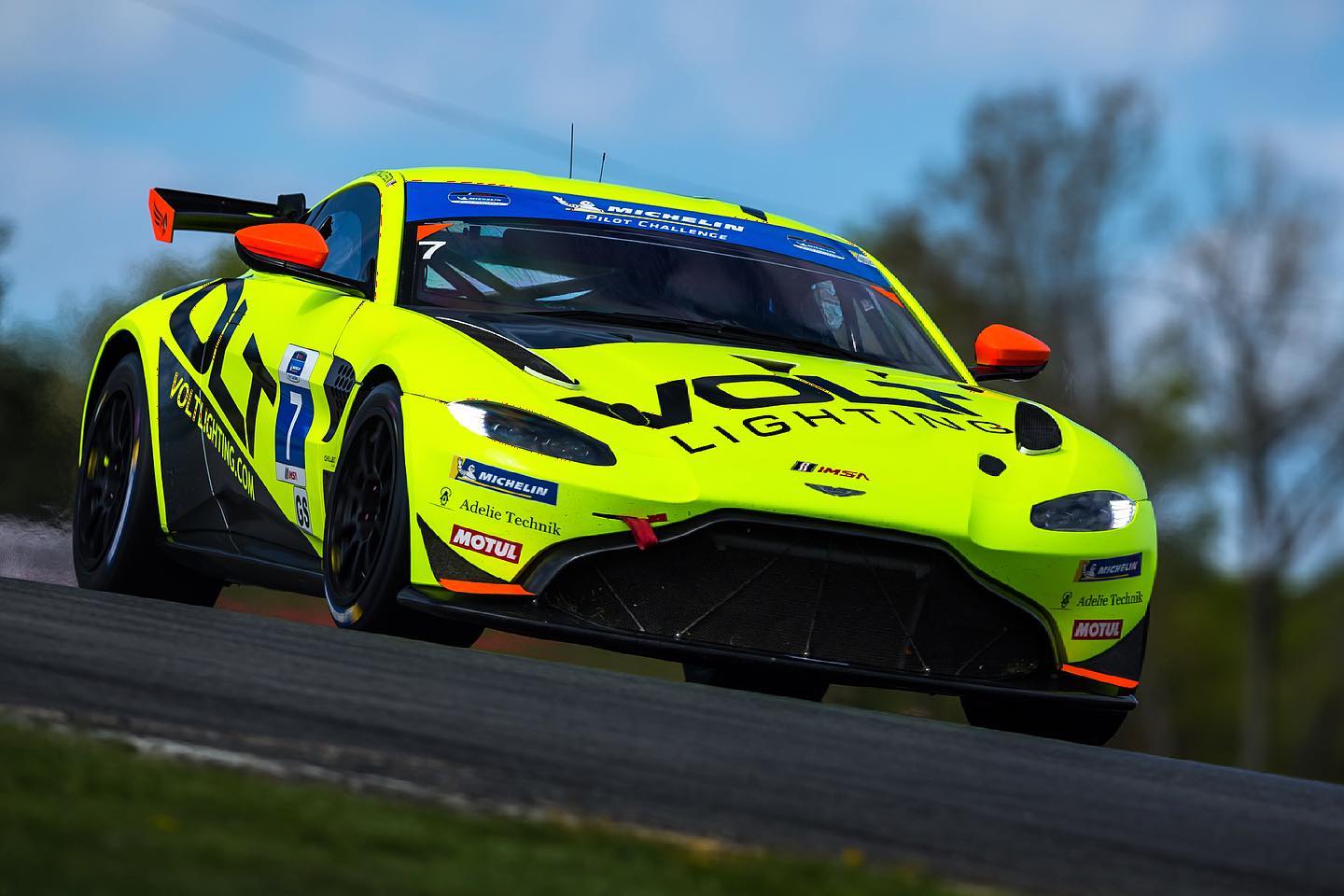 LAKEVILLE, CT (July 17, 2021) - A two hour race with equal parts battles and cautions, saw VOLT Racing with Archangel drivers Alan Brynjolfsson and Trent Hindman storm their Aston Martin Vantage GT4 to a fourth place finish at Lime Rock Park.
A great start by Brynjolfsson saw the Aston Martin dicing for positions from his ninth place qualifying slot. Unfortunately, there wasn't much ground to be made, after a short full course yellow was thrown just three laps into the race. The field went back to green only to go back under caution another three laps later.
That's when birthday boy and Team Principal, Mike Johnson made a call to pit for fuel and a full set of tires, cycling Brynjolfsson to the back of the pack on the restart. Right at the 40-minute mark, the No. 7 returned to the pits, installing Hindman and a pair of right side tires.
Without making a wrong turn, the New Jersey native was able to battle his way from thirteenth to fourth, where he found himself challenging the No. 16 Porsche for the final podium slot. After 10-laps of high stakes pressure, the clock checked out, locking in fourth for the VOLT Racing with Archangel Team.
"Our team performed very well", said Archangel Motorsports Principal, Mike Johnson. "We did three pitstops, which is very unusual for a two-hour race. We knew that tires and track position would be important, so we felt that if we kept fuel in our tank we'd be positioned very well. Unfortunately the race just kept going yellow, so we were never able to capitalize on the fresh tires."
"It was looking a little dire for a little while in tenth place, but the tires came to life towards the end of the race and Trent was able to drive to fourth. Of course we'd like to see a podium, but it was a great result overall. We'll just keep doing everything right and it will come."
The Archangel Motorsports team returns to action with their IMSA Michelin Pilot Challenge, IMSA Prototype Challenge and IMSA WeatherTech Championship programs August 5-7 at Road America. All the action can be followed live on NBC TRACKPASS.
Driver Comments:
Alan Brynjolfsson, Driver, No. 7 VOLT Lighting Aston Martin Vantage GT4— "I was happy with my stint, the team had quick pitstops, the strategy was on point and Trent did great. The Bull Ring is just a tough place with so many variables, between pitstops, strategy and traffic. I'm happy with the end result."
Trent Hindman, Driver, No. 7 VOLT Lighting Aston Martin Vantage GT4 — "It was out first good result after some tough races. It would've been icing on the cake to get a podium, especially after being so deep in the field with about 45-minutes to go. Finishing fourth from where were were earlier in the race is incredible, so a big thanks to the Archangel Motorsports crew for some great stops today. Alan did a great job in his stint. We'll go back and figure out what we need to do to put ourselves on the front foot. It was overall a great rebound from a few tough races."