VOLT Racing with Archangel Hopes to Leave Poor Luck Behind in Watkins Glen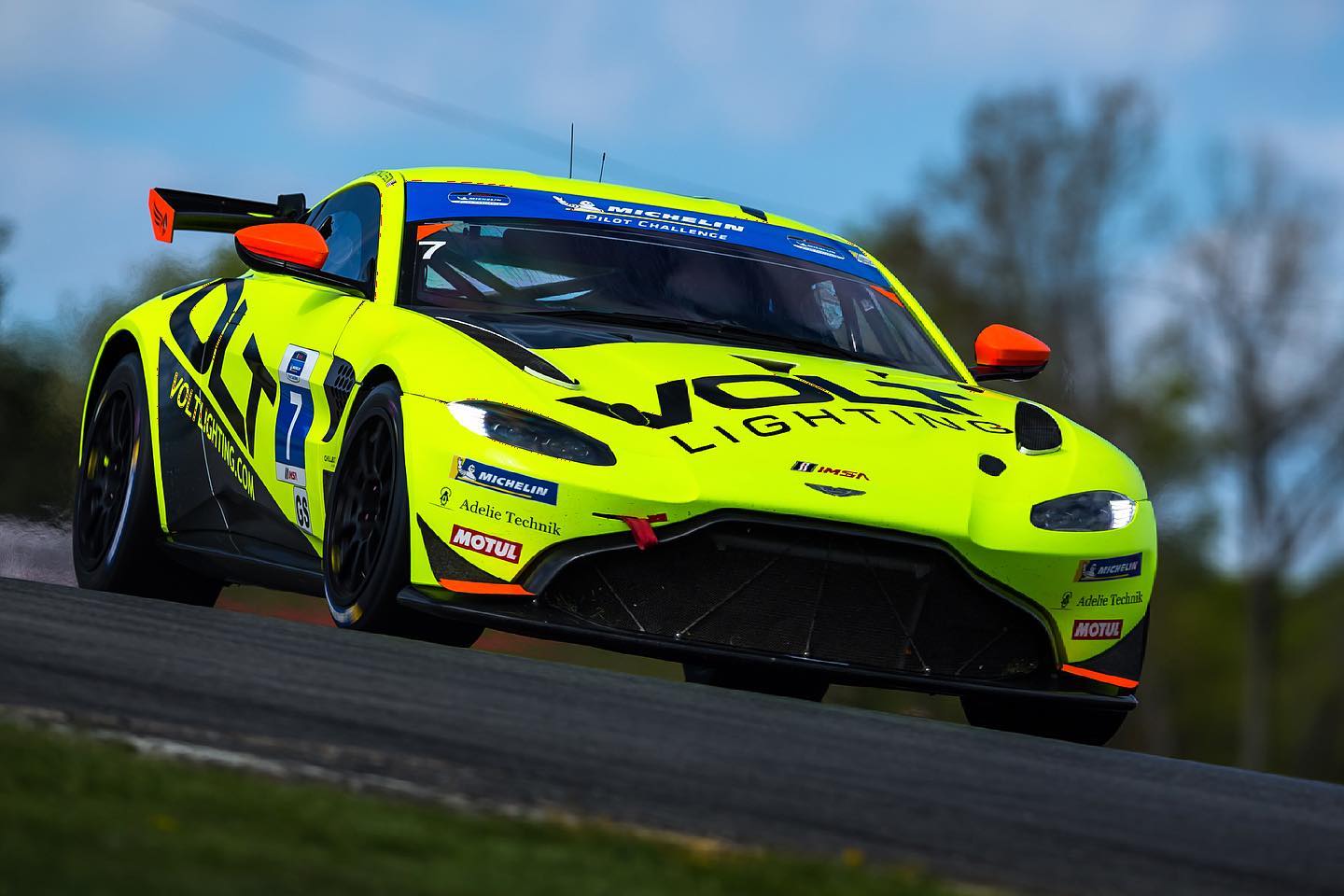 WATKINS GLEN, NY (July 2, 2021) - Sometimes great speed, swift pitstops and excellent strategy isn't enough. VOLT Racing with Archangel drivers, Alan Brynjolfsson and Trent Hindman finished out a double week of Watkins Glen International racing with a pair of seventh place results in the IMSA Michelin Pilot Challenge and IMSA Prototype Challenge races.
The Watkins Glen double header started out on rough terms with week one's Round 4 of the IMSA Michelin Pilot Challenge. The four-hour race saw triumph slipped from the No. 7 team yet again, after a premature pit lane entry, prompted a penalty on the car from the lead position.
Week two saw the group return with not only their IMSA Michelin Pilot Challenge entry, but also their bid in the IMSA Prototype Challenge. With plenty of testing in their pocket they took to a speed round of practice and qualifying sessions on Thursday afternoon. By the end of the day, Brynjolfsson had qualified the Aston Martin in third and the Ligier in sixth for Friday's races.
An early caution was thrown at the start of the IMSA Prototype Challenge race, which saw Brynjolfsson make his way up to fourth on the restart. Throughout the remainder of his stint the Tampa-native found himself battling a combination of mixed weather conditions and LMP3 competitors.
Once at the helm, Hindman was able to advance to second, in pursuit of the win, when a wet track came into play and the No. 7 ended up in the grass with a cut tire. Fortunately, swift pit work by the crew got the car back on track, but that wasn't enough to make up for lost time, resulting in a seventh place finish.
There was only a 20-minute turnaround between the IMSA Prototype Challenge and IMSA Michelin Pilot Challenge races. Fortunately it didn't seem to pose as a problem for Brynjolfsson, who quickly took to some battles in the No. 7 machine before handing if off to Hindman in fourth position.
It was evident that a fire had been lit under Hindman after he took the No. 7 Aston Martin from fifth place, to second, right behind IMSA record holder, Bill Auberlen. From there, he filled Auberlen's mirrors, giving the fans a show, until the final 17 minutes, when Hindman was called into the pits for fuel, cycling him back to seventh. Unfortunately this was immediately followed with a full course yellow and despite the effort, forced Hindman to settle for seventh place.
"Our weekend started off really well," said Archangel Motorsports Principal, Mike Johnson. "We had two fast cars, Alan qualified and started great. Trent took over both cars in great shape, but unfortunately something may have happened to him in the Prototype Challenge race that made him cut a tire and forced us to do an emergency stop. Then in the GS race, we just don't have a big enough fuel tank and had to do a second stop that no one else had to do. It's just a bummer because we're doing everything right every weekend and we can't seem to find a way back to victory lane. We'll keep pushing hard and be ready for Lime Rock."
Alan Brynjolfsson, Driver, No. 7 — "Despite the end results, the team performed awesome, we had a great car and both drivers drove really well in each race. I'm proud of everybody and looking forward to Lime Rock."
Trent Hindman, Driver, No. 7 — "Thanks to Alan and the whole VOLT Racing with Archangel team for giving us some fast cars over the last week. It's a shame that anything that could've happened to take us out of the running did. You can't fault anyone for it, that's racing. It's just a bummer because we have two really fast cars. We'll keep executing the way we're executing and try to push for a win at Lime Rock."